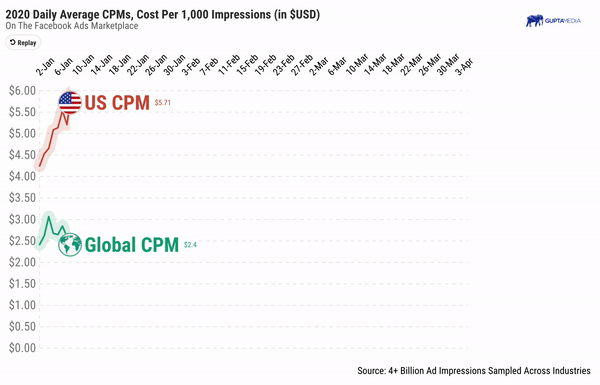 Our team began tracking Facebook CPMs to determine the impact of the COVID-19 pandemic on the digital advertising marketplace. Over the past two and a half years it has evolved into a powerful tracking and learning tool, enabling us and our partners to make informed decisions in real time.
Initially advertising prices as measured by the Cost per 1,000 Impressions (CPM) on the Facebook Ads marketplace declined to historic lows as many advertisers pulled back their spending, while usage and time spent on Facebook and Instagram exploded. Prices then rebounded above their early pandemic lows but have entered a new state of volatility as consumer behavior continues to shift.
Link To DataStudio Live Dashboard
Link To DataStudio Live Dashboard
Data Source
This Data was first published on March 20th, 2020.
We created this dashboard to help our clients understand recent, dynamic changes in the Facebook Ad marketplace. This data is sourced from a wide sample of projects and it accurately reflects a broad mix of campaign types, ad types, bidding objectives and industries.
Data is updated daily by 11 AM (EDT).