Q5 for Marketers: Fact or fiction?
Meta and TikTok are pushing a new shopping season for advertisers. Is it a value-add or a fire sale?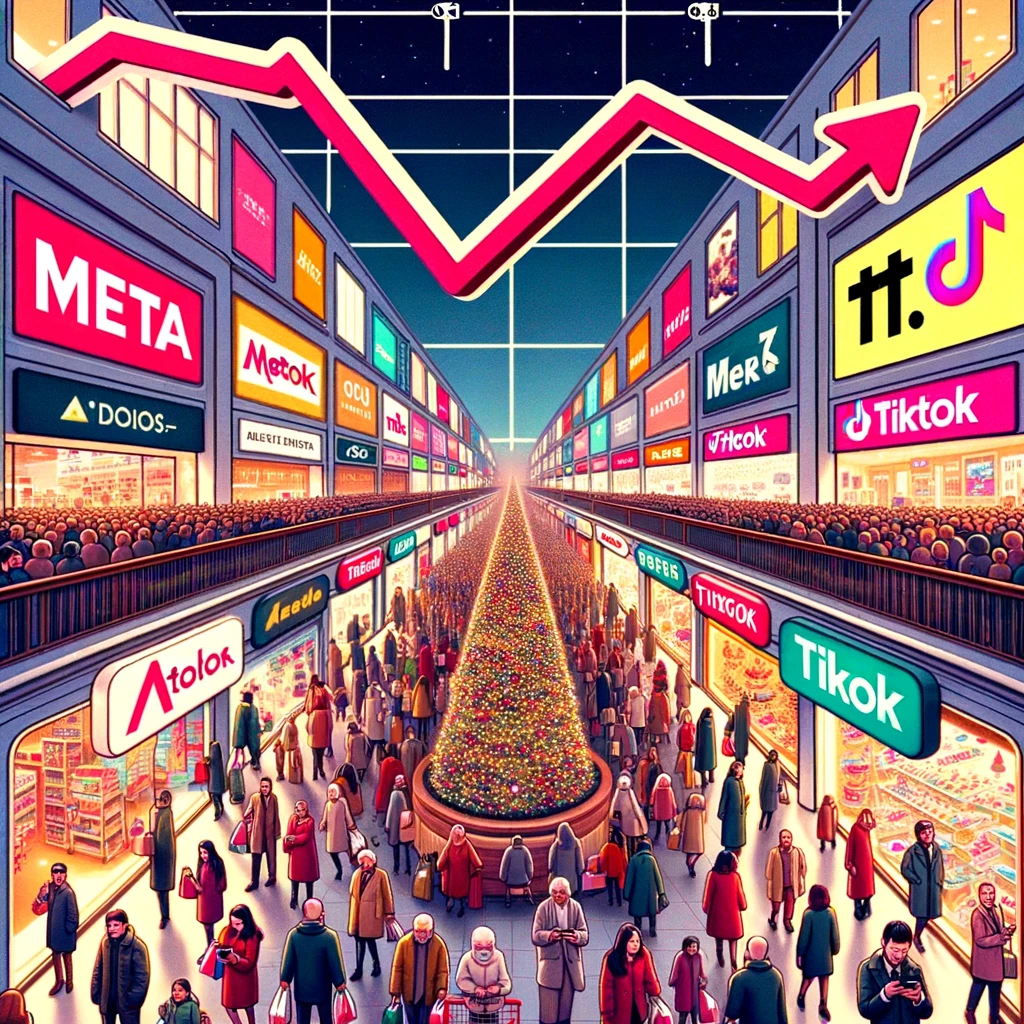 In recent years, both Meta and TikTok have introduced the concept of Q5—a so-called "fifth quarter" of the year—encouraging advertisers to continue spending after the Q4 Black Friday/Cyber Monday gold rush. The trend they're describing is real enough: As the holiday season wanes and advertisers pull out of the marketplace, CPM rates plummet—leaving low-cost inventory for the taking. But is the dip worth buying? We crunched the numbers to find out.
The Black Friday Paradox
When investing in paid social media advertising on Black Friday and Cyber Monday, marketers have two strikes against them. First, increased ad costs: CPM rates are likely the highest they'll be all year. And second, products are often discounted to compete with other sales—so there's also a potential for a decline in margins and/or average order value (AOV).
In order for increased CPMs to be worth the spend, advertisers need two things to happen. To keep top-line results on track, they need their conversion rates to improve. And they also need a strategy in place to encourage consumers to purchase more in order to deliver on revenue targets.
What—and when—is Q5 for marketers?
What if brands could take advantage of seasonal increases in sales volume and conversion rates without paying the full premium on Q4 ad prices? That's the theory, at least, behind "Q5," a term TikTok and Meta are both pushing—although each has a different definition for it. Last year, Meta defined Q5 as running from December 18 through January 31, while TikTok offered incentives between December 26 and January 8.
In 2023, Meta encouraged advertisers to buy in Q5 because:
Data shows that during the last week of December, the auction is less competitive resulting in more cost efficient CPMs.
Engagement and attention on Facebook and Instagram surge, as more devices come online and people have more time to connect with others on social media and be in the discovery mindset.
Purchase intent is still high, with people still actively celebrating with family and friends or doing some last-minute shopping.
Similarly, TikTok advised 2023 advertisers that Q5 offers opportunities to:
Drive efficient CPA's due to reduced competition.

Capitalize on reduced CPM's to drive mass awareness—TikTok saw a 22% decrease in CPMS in Q5 compared to the rest of Q4.

[Advertise while] consumers are hyper-engaged. The week after Christmas, TikTok views increased +24% compared to Q4 average.
This year, TikTok and Meta are expected to go head-to-head, as TikTok makes a big push into shopping on the back of new features introduced this year, including TikTok Shop, Video Shopping Ads, and a "High Spending Power" targeting option. In a newly-released report, we found TikTok ads trending between 49% and 53% cheaper than Meta ads during the height of the holiday season. But just because TikTok ads are cheaper doesn't mean they're more effective. More sophisticated platforms like Meta and Google still reign during the holidays when it comes to harnessing a powerful algorithm designed to reach the users most likely to make it across the purchasing finish line.
A new definition for the Q5 season
Our analysis shows that combining TikTok's and Meta's definitions of Q5 yields an interesting sweet spot: CPMs dip between December 18 and the first week of January, offering a potential window for advertisers to unlock holiday value. On TikTok, it's worth looking at mid-December, when consumers are still in gift-shipping mode, and CPMs are available at a relative discount. On Meta, we recommend taking a look at the second-to-last week of the year, when, our analysis shows, CPMs are 20% cheaper than the rest of the Q4 holiday rush.
But our numbers revealed an additional surprise: A new sweet spot for TikTok advertisers—just before the Black Friday/Cyber Monday rush. We mapped TikTok's 2022 CPM rates with data on consumer holiday purchases to find dates where CPMs were contextually lower and purchase volume was higher. As you can see below, TikTok CPMs decline dramatically in early November—as consumer intent is rising. For marketers seeking efficiency at the margins, the second week of November is worth a look: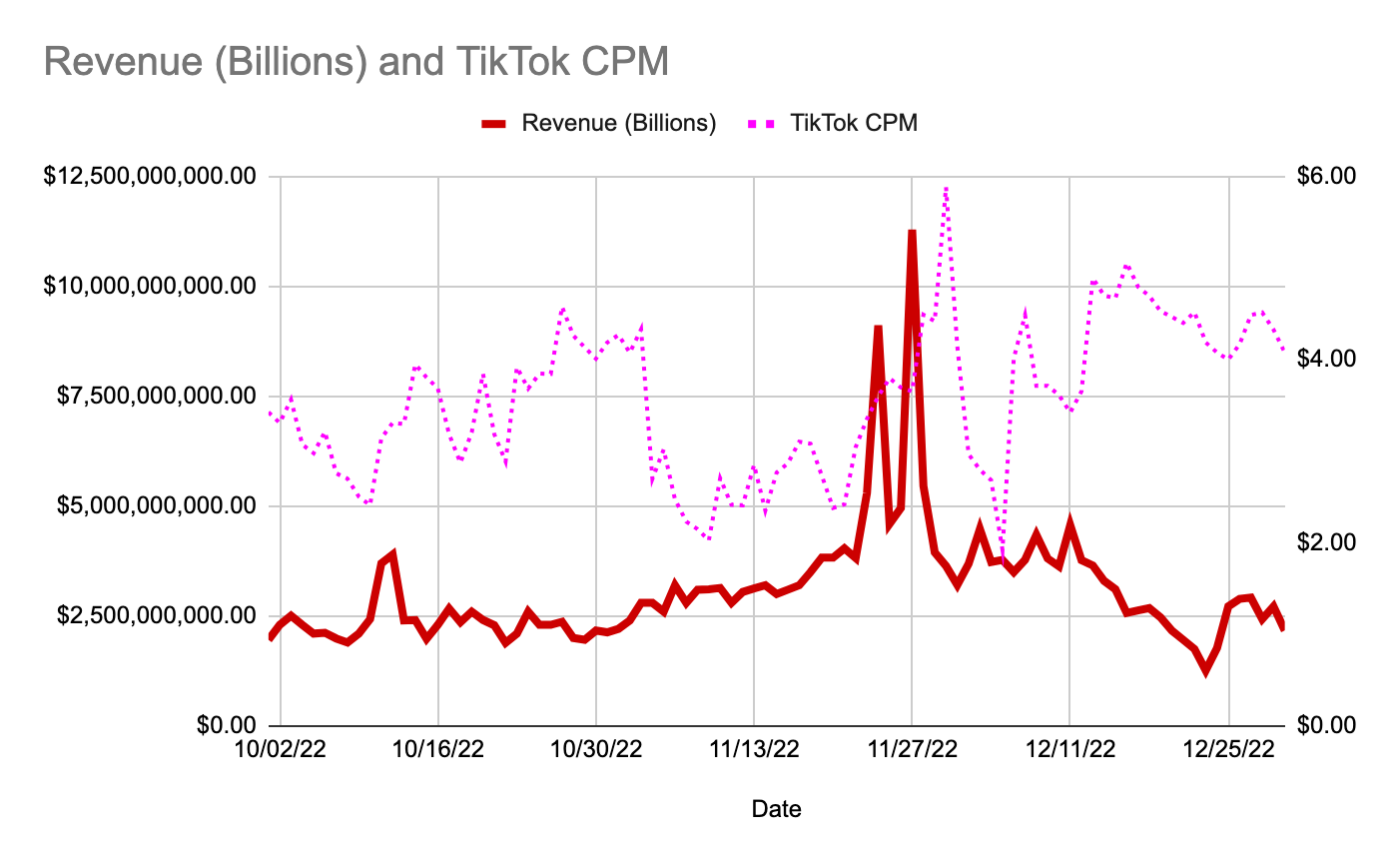 Should advertisers buy in Q5?
Does that mean you should keep a little powder dry for Q5? As with any marketing decision, the answer is: It depends.
Smart advertisers will look at a brand's historic conversion rate and average order value (AOV), then model out the timeline that delivers the strongest return on ad spend (ROAS), based on the expected CPM. For some advertisers, there will be a use-case for leveraging the Q5 dip in CPM. For a detailed breakdown of the numbers, see Gupta's guide to Q5 in the 2023 State of Social Media CPM report, a definitive guide to the cost of digital advertising drawn from an analysis of tens of billions of impressions.
The Arbiter is a series of informed opinions, strategic outlooks, analytics-backed predictions, and tactical briefings from Gupta Media. Subscribe via email, Substack, or LinkedIn.