#1
Billboard 200 for 3 weeks
Challenge
In 2015 Abel Tesfaye, better known as The Weeknd, became the first male artist to top the Hot 100, Billboard 200, and Artist 100 simultaneously. This accomplishment was no fluke, but rather the result of major momentum built up to his album Beauty Behind the Madness and an aggressive, multi-phased marketing campaign. The new album was led by three multi-platinum singles that have all reached the top five of the Billboard Hot 100 chart: "Earned It" initially from the Fifty Shades of Grey soundtrack, "Can't Feel My Face" the #1 single for 2 weeks, and "The Hills" the #1 single for 6 weeks.
Working with Republic Records, Gupta Media took a strategic approach to the album roll-out and marketing campaign setting Abel's album up to own the #1 spot on the Billboard 200 for 3 consecutive weeks and earning him seven GRAMMY nominations. The campaign was optimized based on which ad types, creative, and messaging were performing the strongest. The captivating copy and creative alongside marketing drivers and well-timed executions contribute to how 2015 became the year of The Weeknd.
—

Highlights

Executed a phased rollout including singles to ensure the album debuted at #1, and stayed there
—

Impact

Debuted at #1 on Billboard's Top 200

Stayed at #1 for three weeks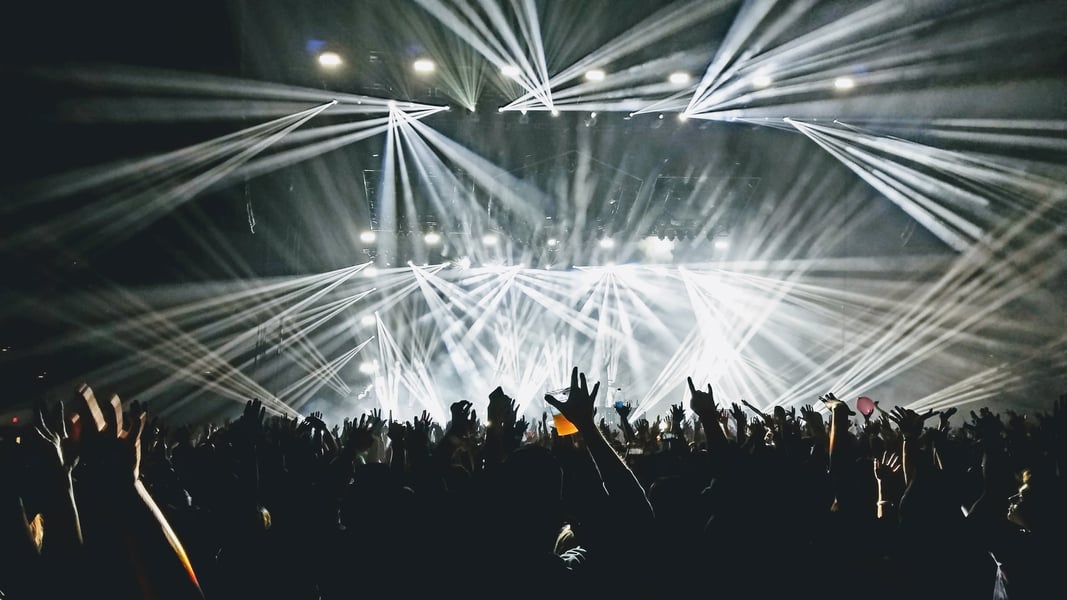 How We Did It
Phase 1: "Earned it"
After being featured on Ariana Grande's "Love Me Harder," The Weeknd kicked off the year with the lead single "Earned It" on the biggest soundtrack of 2015 for Fifty Shades of Grey. With the buzz around Abel's new music as well as the film premiere, this song peaked at #3 and was on the Hot 100 Billboard chart for 19 weeks.
We messaged this single throughout the entire soundtrack campaign, serving 1.5M impressions on Facebook alone. Being able to highlight The Weeknd's "Earned It" in our ad copy throughout the Fifty Shades of Grey campaign helped increase awareness and drive exposure for him with his own fans and potential new fans as well.
Phase 2: "Can't Feel my Face"
The next phase of the campaign focused on awareness for The Weeknd's first big pop single, "Can't Feel My Face." Continuing the trend of leveraging buzz-worthy moments, the campaign was paced accordingly, spending aggressively the first week and increasing spend again around the video premiere. When Republic Records felt that Abel's first #1 single was in reach, they worked with us to switch the ads from focusing exclusively on sales to driving to all consumption models instead. Since Spotify streams impact chart positions, we helped push the track to #1 on Billboard's Hot 100 driving more than 13 million impressions through paid media.
This strategy and pacing played a big role; however, our creative and copy was just as crucial in this phase of the campaign. Republic Records worked with us to feature several press quotes within our ads in order to emphasize just how big this single was. These accolades called out in the ads reached 1.2 million people and saw a high level of engagement with 78,000 post likes, 2,500 shares, and 1,500 comments at a 4.4% click through rate. Leveraging this critical acclaim in our ad creative helped build The Weeknd's credibility as an artist.

Phase 3: "Beauty Behind the Madness Pre-order"
One way we were able to increase excitement around the upcoming release was by targeting The Weeknd's fans, site visitors, email subscribers, and past purchasers using a sizzle reel on Facebook. We switched up our targeting to emphasize fans of Abel's similar artists later on in order to hit the people that wanted in on this social buzz as well. This reel was designed to give the viewers goosebumps quoting sources like The New York Times, Spin, and Buzzfeed. We were able to create a retargeting list of 64,000 people who viewed this video on Facebook and served them follow up ads during our post release campaign. Out of this targeting group, 11,000 people viewed the one minute long video to completion.

When the album unexpectedly leaked a week before the release, Republic Records found a way to embrace the situation. The Weeknd released "Beauty Behind The Madness 'The Leak'" on YouTube featuring an official sampling of the entire album. We followed suit and utilized the video in the digital campaign targeting those who have interacted with "The Leak." Ads were set up to drive to the video on YouTube totaling 1.6 million views. The video was used within our Facebook ads totaling 361,000 video views and Google retargeting was immediately set up as well creating a list of up to 910,000 video viewers. In addition to this, we placed a call to action overlay on the video to get those users to retail. All in all, the leak helped to get people excited about The Weeknd's music and provided them with an easy opportunity to pre-order the album.

Phase 4: "Beauty Behind the Madness Release"
Finally the highly anticipated album had been released: Beauty Behind the Madness. For the post-release campaign, we messaged four methods of consumption (iTunes, D2C, Google Play, and Spotify) on search, Facebook, Twitter, and Instagram, utilizing three different Page Post Ad/Website Card images, three video spots on Facebook, and two images on Instagram.
The ads for BBTM were able to call out his VMAs performance, the platinum singles "Earned It," "Can't Feel My Face," and "The Hills," and fan bundle packages along with variations of social shareables (images with captivating text designed by Gupta Media used in ads for users to share). We delivered roughly 84,000 clicks on Facebook reaching 1.3 million users at a CPC of $0.14 and an overall CTR of 4%. Of these clicks, about 19,000 were clicks to retail at a cost per link click of $0.65. Considering the aggressive spend during release weekend and the targeted core audience, these ads were highly efficient.

We utilized 15 different Facebook custom audiences built during the previous phases of users who had watched certain videos, clicked on past smartURLs, or are a part of an email list. These custom audiences were negatively matched from Abel's connected fans in order to make sure that the same people were not getting hit with the same ads and to minimize the overall frequency.

According to Billboard, the album started with a whopping 412,000 equivalent album units earned in the week ending Sept. 3. Of that sum, 326,000 were pure album sales (his best sales week ever).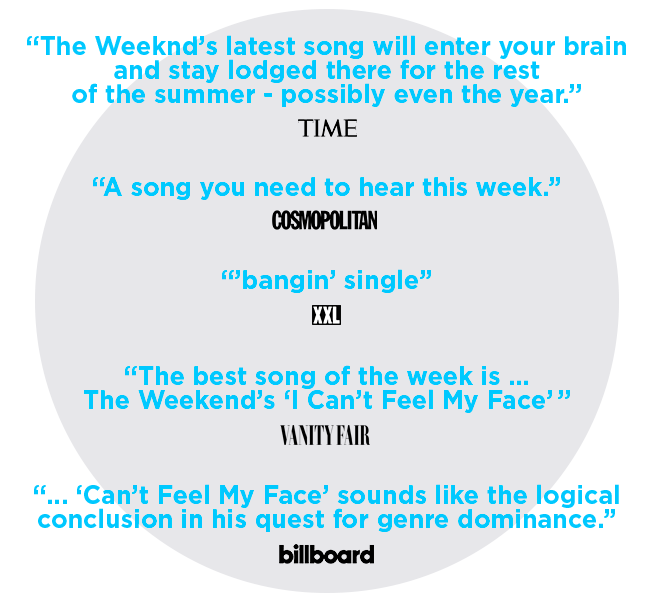 Phase 5: "Post Release Drivers"
The Weeknd has had a monster year, but he is far from over. Republic Records is working with us to leverage all post-release drivers in order to keep Abel's music hot and relevant. During his SNL appearance, a campaign was in place to capitalize on increased chatter as well as to help launch the surprise remixes of "The Hills" by Nicki Minaj and Eminem.

With two #1 singles already in the books, Republic Records switched focus to his next single for Top 40 radio: "In The Night." Similar to our previous phases, we ran a full paid media campaign with strategic pacing and tailored copy around The Weeknd's seven GRAMMY nominations, his music video premiere, as well as his TV syncs on the Victoria Secret Fashion Show and The Voice finale supporting these singles even further.

The End Result
Republic Records and Gupta Media learned from each phase of The Weeknd's campaign and tweaked strategy based on what worked and which assets were purposefully created throughout the campaign. Leveraging external drivers and buzz was a major part of the strategy throughout each phase. From The Fifty Shades of Grey soundtrack to reliable press quotes, Republic Records' communication of all drivers made this strategy possible. There is importance to the variety of the messaging as well as the quality of the creative. But what is more important is to make sure that these ads are in front of the right people the right amount of times. This combination of factors has helped shape The Weeknd to be one of the most influential artists of 2015.