Connecting with friends and family, while also finding a sense of belonging has great influence on how much time people spend on specific social networks. They're searching for a digital safe space where they can be their authentic selves while interacting with individuals sharing similar interests, values, and sometimes even just aesthetics. From the beginning, Tumblr has always been the "happy place" users curate for themselves. The site can be a little weird and odd, yet Tumblr proudly boasts that "influencers don't even go here".
Launched in 2008, Tumblr is a microblogging and social networking platform that allows users to post multimedia and other content to a short-form blog.
Tumblr's advertising product, Tumblr Ads, is a fully-managed service with each account assigned an Account Manager that acts as a liaison between advertisers and Tumblr's trafficking team. According to our Account Manager, Tumblr is also working on a self-serve platform that is expected to launch within the next several months.
Is Your Audience Really on Tumblr?
As of July 2021, Tumblr hosts more than 529 million blogs with users in almost every country across the globe. Its audience is growing quickly, having seen a 20% bump in new users in April 2022 alone.
Tumblr has over 40 million monthly active users in the U.S with that number expanding to 140 million globally. With so many blogs running across dozens of topics, advertisers are able to reach people leveraging thousands of niche interests and topics.
Tumblr's Top Five Markets by Users:
United States - 41 Million+
United Kingdom - 4.9 Million
Brazil - 4.6 Million
Germany - 3.6 Million
Canada - 3.5 Million
Additionally, these are people that you also might not find on other social platforms. 52% of content on Tumblr is generated by Gen Z and yet, 74% of users aren't on Snapchat and 50% aren't on TikTok.
Tumblr users not on other platforms:
Why You Should Build Tumblr into Your Media Mix
Tumblr is a contextual targeting goldmine. The depth and breadth of interest segments gives advertisers a unique level of control you won't find on platforms like Snapchat or Reddit. The categorization of different feeds breaks the mold of what mainstream social platforms offer, tapping into specialized audiences not found elsewhere.
Want to target college students so they buy the coolest dorm decor from your site? Try targeting "dorm_life".
Are you a non-toxic nail polish brand looking to increase awareness from a niche audience? You can target the "Nail Care" and "Clean Living" interests.
Perhaps you're a Korean skincare brand looking to drive awareness of the latest collab with BLACKPINK? Overlay the "K-pop" interest with "makeup and skincare" to reach a unique audience.
There are lot's of opportunities on Tumblr when it comes to reaching your targeted audience.
If you're looking to reach a broader audience, you can also have your content featured on the most popular blogs owned and operated by Tumblr, such as entertainment.tumblr.com, fandom.tumblr.com, and music.tumblr.com
See available interest targeting below: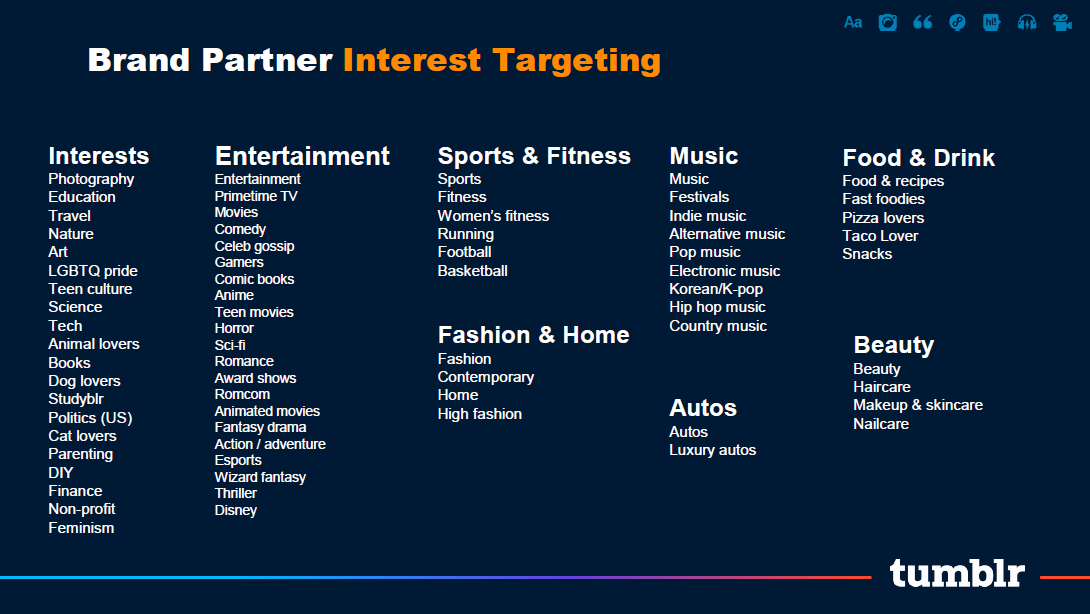 Is Tumblr the Next Platform You Should be Advertising On?
Tumblr is a great place to tell your story, reach a unique audience, and curate an enthusiastic following. The most successful campaigns have come from brands looking to increase their fanbase and drive awareness. Tumblr allows you to tell that story in a distinctive way and its marketing team is innovative and fun, providing innumerable opportunities to create a remarkable campaign.
Maximizing your reach on Tumblr is easy with one of its Tiered Takeovers. These ad units allow you take full ownership and share of voice across the site.
On-blog ads allow you to bid by cost-per-click or cost-per-engagement. At Gupta Media, we've seen CPMs come in between $0.59-$0.85 in Q2 2022. However, click-through rates are low, varying depending on audience targeting and creative - coming in between 0.06%-0.08%.
At the moment, there is no Tumblr pixel that allows you to add conversion tracking or site retargeting to your campaign. However, if tracking acquisition is important to your campaign goals, you can set up tracking through partners like Google, Innovoid, Appsflyer and various others. Gupta Media has seen success using reference tags on landing page URLs at the ad level to measure success. Since the campaigns are managed by Tumblr, you have to rely on account managers to provide reporting on campaign performance. This may be difficult for campaigns that follow a strict CPA and require making optimizations regularly.
Although there are a few limitations to run a conversion-based campaign, there is hope on the horizon as Tumblr expects to launch a self-serve advertising platform in 2022.
Tumblr's team likes to remind us that fan love, drives brand love. If you're looking to achieve any of the following:
Share your brand story
Increase brand awareness
Create a fandom
Drive authentic engagement with your brand
Tumblr MUST be included in your strategy.