11:59pm on a Thursday night can be one of the most crucial moments for an artist and their new release. Fans anxiously await the ability to stream and share their opinions and excitement with the buzzing world of social media, and the artist is finally able to share their creation. Whether it's a debut album, or an artist's 10th release, the anticipation and goals remain the same: to showcase their music, create buzz, and convert to streams.
In the past 10-15 years, the music industry has evolved. Music fans aren't going to Tower Records on release day or even buying the album first thing on iTunes. Instead, you're going right to your preferred streaming service to listen, and possibly add to your vinyl collection.
Streaming has generally become the #1 focus of any release campaign, whether it's a single, EP, or album. So, how do you pull it off? How do you make sure that your artist's release cycle starts off with a bang, and you keep the momentum going to reach the top of the charts? A social media ad strategy that taps into using new and different platform tools will give your artists and their releases a competitive edge.
Platform Tools and How You Can Benefit
The social media landscape is ever-changing - especially in the music industry, you must be nimble and efficient to stay ahead. Part of that means quickly learning and implementing new platform tools to elevate your marketing strategy.
Twitter: A lot of buzz and conversation about new releases happens on Twitter, especially for larger artists. Launching ads on platform right away is key to capitalize on that buzz and reach users actively searching for and tweeting about the release.
By running Branded Notifications, you can capitalize on and generate buzz prior to an album's release. It starts by boosting an organic tweet from the artist teasing a special announcement or announcing the album release date - with a strong call-to-action for fans to like the post so they can be reminded at a later time about the release. Then, engaged fans who liked the tweet will get a notification on release day, helping to focus marketing efforts on active fans that will be exponentially more likely to click through and stream.
TikTok: Across the board, TikTok has disrupted and changed the performance marketing game. Going viral on the app has become a key part of marketing strategies that can dictate an album's mainstream success and spot on the charts.
Artists know that the medium is the message on TikTok, and they need their content to feel native to the platform in order to get the engagement and buzz they're looking for. Boosting organic posts helps drive that home. You can make sure this is achieved efficiently by ensuring the artist is posting immediately after release to capitalize on first day excitement. By boosting the post, you already have strong engagement to build off of, helping to make the ad feel big and enticing for users to click on or engage with.
TikTok is still somewhat of a new entity in the social space, and with that, the platform is constantly updating and introducing new tools. One tool that has seen success is Super Like, which aims to generate more engagement on an ad, making "liking" a more exciting experience.
When users like the ad, different images appear and fly up the screen, and a landing page represents the final image. Essentially, these two assets highlight the release in some fashion (the album cover, a favorite image or symbol of the artist, a relevant image to the album title) and have a strong call-to-action indicating what users should do when it pops up (i.e. Listen Here!). This feature makes the TikTok ad experience more interactive than a standard ad.
Instagram: If you're receiving very produced content from an artist or label, it's important to make it look more native to the platform, whether it's for IG Story, Reels, or Feed. Ads on Instagram that are made to look more organic, even as dark posts, are more enticing for users rather than content that looks highly produced. It can be as simple as adding native platform text over the content to make it look and feel more like it belongs on platform.
There is also a lot of success in Poll Ads, presenting users with a question and two answers to choose from, encouraging the user to engage more with the ad and feel like they're directly answering a question posed by the artist.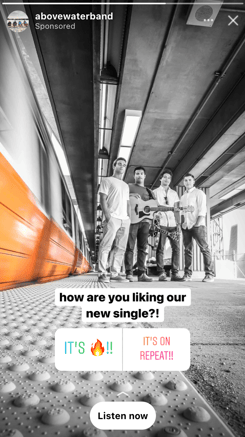 YouTube: Oftentimes, a secondary goal for an album release is to drive video views on YouTube for lyric videos, music videos, or other content posted on an artist's channel. The goal of In-Stream ads is to maximize as many views on a video as possible, while In-Feed ads aim to drive more engagement on a video.
With both ad types, you can target a wide range of audiences, some of which include users who have previously engaged with the artist's other videos or subscribed to their channel, users who are fans of a specific genre (i.e. topic targeting: fans of Pop Music), fans of similar artists, and users who have actively searched for that artist and other similar artists on the platform.
Crossing the Finish Line
An album release cycle is fast, intense, and more often than not, filled with its fair share of obstacles. Artists and labels have different views of success depending on the release: driving lyric video views on YouTube, increasing the artist's following, charting at #1 or top 10, all of the above, or none of the above. It's all about ensuring you're well aware of these goals beforehand to adjust your advertising strategy.
The most important thing to do is capitalize on engaged fans excited about the new release, make sure your marketing strategy is focused on your goals, and that generally, a larger portion of spend is allocated to the first 24 hours post-release. Going the extra mile can and will make all the difference.