Challenge
Climate Pledge Arena, located at Seattle Center is the complete redevelopment of a historic landmark, originally built for the 1962 Seattle World's Fair. It is an industry first, including being the first net zero certified arena in the world. Home to the NHL's Seattle Kraken, WNBA's Seattle Storm, and the world's biggest performers of live music and events. Construction for the arena began in 2018 and they opened their doors on October 22, 2021.
The Climate Pledge team leveraged Gupta Media's expertise to build awareness and excitement about the opening of the newly renovated arena ahead of a busy year of events, and a climate still colored by the COVID-19 pandemic. We were tasked with building a creative awareness campaign that showcased the new and exciting features of the arena, as well as some of the upcoming programming inaugurating the venue.
Solution
Home of the 32nd NHL team Seattle Kraken, 4-time WNBA Champion Seattle Storm, and quickly booking marquee artists including Coldplay, Billie Eilish, John Mayer, Dua Lipa, and Shawn Mendes, we were keen to showcase the exciting events Climate Pledge Arena had coming up on their calendar.

The arena is also one of a kind in their mission – not only are they named after The Climate Pledge, but their goal is to be the most "progressive, responsible, and sustainable arena in the world". They aren't shy about it either – we were able to showcase the arena's strides in working towards these goals in our ad copy, encouraging Seattle locals to come to a hockey game, or a show to see their favorite artist and take a look at the future of sustainable events themselves.

To ensure we found users that would be interested in seeing/attending shows at the arena AND inspired by their mission, we targeted users across platforms that would be interested in the NHL, WNBA, and various performing artists as well as users likely to be living green lifestyles. These included targets like 'zero waste', 'environmentalism', and 'sustainable living'.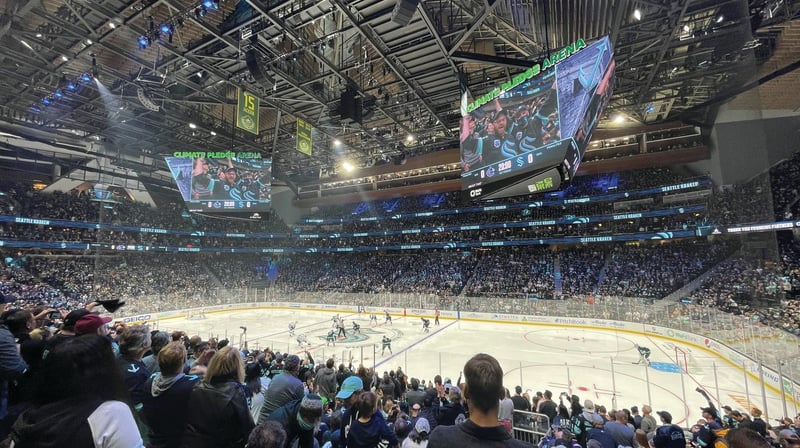 Results
By showcasing the unique features of the arena, combined with their exciting calendar of upcoming events and our precise targeting, our ads served over 7M impressions and drove over 1.3M video views across platforms including Facebook, Instagram, Twitter, Google Display Network, Snapchat, and TikTok. We also drove over 700 ad shares/retweets, generating additional awareness of the arena's grand-re-opening with no additional budget needed.

It was inspiring to work on a project with an impactful mission and set of goals that will ultimately change the world and the future of live music – we couldn't be more proud of the sustainable future Climate Pledge Arena is paving. We're excited to continue working with the team, and look forward to the next challenge they bring our way!